Karin Hollerbach, PhD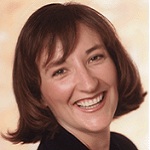 Dr. Hollerbach is an Adviser to the Triana Group, and the founder and CEO of Triana's partner firm Taku Group. A graduate of MIT, the University of California at Berkeley, and the University of California at San Francisco, she holds degrees in Molecular Biology, Electrical Engineering & Computer Science, and a PhD in Biomedical Engineering, as well as a certificate in Global Business.
Dr. Hollerbach started her career in research positions at the University of California, the Whitehead Institute, Stanford Research Institute, the C.S. Draper Laboratory, and the Lawrence Livermore National Laboratory. Moving to the industrial sector, she served as CEO, President, Executive Vice President, VP of Technology, VP of Products, and other management roles in companies ranging from Fortune 500 corporations to startups. She has served on the Board of Directors of multiple companies, of a major regional hospital in San Francisco, and of the Association for Corporate Growth, San Francisco Chapter. She is a member of the Management Board of Sutter global, a US-European joint venture.
Dr. Hollerbach founded the Silicon Valley-based Taku Group to serve the national and international business development needs of medical, clean, and other technology companies. Since then, Dr. Hollerbach has helped numerous foreign and American companies with projects such as expansion into US and foreign markets, development of licensing deals with US and foreign partners, creation of distribution channels, regulatory strategy development including the design of clinical trials suitable for FDA submission, facilitating financing, technology and business due diligence on behalf of investors. As a previous Principal in Pacific Bio-Health Consulting, Dr. Hollerbach facilitated the formation of long-term partnerships originating in and/or entering into the Pacific-Asia region, for clients in medical/health/wellness sectors. She is a founding member of SYLK Global and of the Global Ideas Exchange, two organizations facilitating various aspects of discussion and education for executives of growth companies that are expanding globally.
Dr. Hollerbach is German and American, speaks multiple languages, has worked with companies in North America, Europe, Asia, and Australia, and has lived in Europe and in North America. She enjoys flying airplanes and climbing mountains.
[back]