Companies can accelerate growth and business development in their current or new markets through mergers and acquisitions. In this interview, our adviser, Paul Borgese, provides insights on M&A best practices and pitfalls for business development executives to navigate an external growth strategy.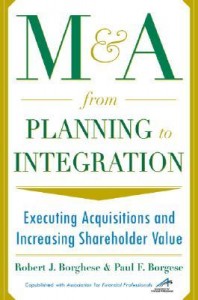 TG: Paul, why is M&A a relevant topic for business development executives?
PB: Most leading corporations have used mergers and acquisitions as a growth accelerator and competitive weapon. Mergers and acquisitions are designed to build market leadership and create long-term value – in theory, anyway. Even more companies are, or will be, targets of a merger or acquisition. Some of them see it as an "exit" or a "successful sale" but they would still benefit from understanding M&A best practices. Business development executives on both sides of the equation need to know the tools to successfully guide their organization through the process.
TG: Shouldn't executives leave the M&A process to the professionals?
PB: Business development executives (and CEOs) must include professionals such as M&A advisers, attorneys and other auditors to walk them through the numerous technicalities and strategies of the M&A process. But there are strategic and managerial considerations that go way beyond the transaction.
TG: You explained how in 1970, Ted Turner merged his father's small-time billboard company with the publicly traded operator of an Atlanta television station. Turner used this new access to the capital markets to build cable television pioneer Turner Broadcasting. In sharp contrast, in 1996, Quaker Oats paid $1.7 billion for specialty beverage producer Snapple. A little more than two years later, debilitating losses and miscalculations forced Quaker to sell Snapple for $300 million – less than 20 per cent of what they had paid. There are numerous examples of both situations with transactions of all sizes. How can acquiring companies experience the success of Ted Turner, while avoiding the disaster of Quaker Oats' Snapple acquisition?
PB: Business development executives and CEOs who pursue such a growth strategy must do everything they can to avoid failure, because the consequences can be extreme for their companies. This requires in-depth analysis and guidance for EACH stage of the M&A process. They need professional help but also need to balance delegation versus control, because at the end it is THEIR career at stake.
TG: You co-authored a book on M&A – could you summarize the main lessons learned for business development executives interested in this topic?
PB: Mergers and acquisitions are among the business world's most dramatic, attention-grabbing events. But behind each flashy headline lies a stark reality: The devil is in the details, and the success or failure of any transaction depends on effective execution of the deal's numerous finer points – both technical and political. The book introduces readers to the multiple factors that signal the potential for a successful deal, with hands-on guidelines for addressing the particulars and building shareholder value with every merger or acquisition. We have developed systematic plans for developing, implementing, and monitoring a successful M&A deal. This step-by-step guide to "doing the deal" is built around an innovative "M&A Strategy Guide", a walk-through of a typical negotiation, which features unique tools including: the acquisition scorecard – an objective, empirical process that gives potential acquirers a broad understanding of the overall health of an enterprise; the acquisition feedback loop – techniques for the acquiring company to establish an ongoing learning program, and apply previous M&A lessons to future acquisitions; valuable, practical appendixes – a sample confidentiality agreement, due diligence checklist, strategies for valuation and protection of a company's intellectual property, including patents, trademarks, copyrights, and trade secrets, and more. Examples from companies including Cisco Systems, GE, Microsoft, and others reveal M&A strategies that have worked in the real world, illustrate the book's concepts in action, and help the business development executive or CEO apply those concepts and strategies to her/ his own company. We cover each step, from identifying a promising target to managing the post-merger transition. We outline six pre-deal techniques for boosting the odds of a successful merger; methods for performing due diligence to ensure appropriate legal and tax structures; and strategies to confront and overcome legacy issues during the integration process.
To read more about the book, click here. Or better yet, contact us to arrange a conversation with the author and other team members most relevant to your growth strategy.