Reed MacMillan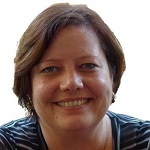 Reed C. MacMillan joined The Triana Group in May 2013. She was previously Business Acquisition Manager and a Senior Strategist at Science Applications Corporation (SAIC). SAIC is a $4 billion Fortune 500 systems integrator based on innovative applications of science and technology.
At SAIC, Reed MacMillan most recently oversaw the pursuit of large federal opportunities valued at $100 million and above. In this role, she ensured SAIC delivered compelling and competitive responses to RFP, leveraging enterprise capabilities, and augmented with the complementary strengths of industry partnerships. She has designed solutions for enterprise IT systems engineering and advisory services contracts, for the delivery order contracts requiring specialized technical expertise, and for human resources and training solutions. Prior to this, she led the development of enterprise training and operations solutions for government agencies, overseeing global teams. For 5 years, as a member of the project leadership team, she helped ensure that the software was successfully adopted by the customer organization and continually improved to meet new business requirements. During this project, Ms. MacMillan stood up the operations team responsible for the 24x7 availability of multiple worldwide systems.
Prior to this, she oversaw the development of award-winning e-learning solutions at Carney Interactive, a leader designer of hands-on, minds-on performance oriented training solutions. In 1996 – 2000, Ms. MacMillan, launched Splash Productions Inc, a marketing company focused on "corporate storytelling." Splash Productions developed digital information products for a variety of commercial and non-profit organizations including: MCI WorldCom, the American Chemical Society, the Amazon Conservation Team, the National American Housing Council, and the National Association of Realtors, among others.
From 1994-1996, Ms. MacMillan led the Special Interest Group on CD-ROM Applications and Technology (SIGCAT), a Virginia-based non-profit educational foundation, with 13,000 members in the federal and private sectors. In this role, she oversaw the creation of a technical education center and all aspects of two large annual conferences with approximately 500 attendees including vendors.
Throughout her career, she has achieved successful business outcomes by connecting people, ideas, and business interests. She has a keen interest in and passion for science and technology, which drove her to pursue an MBA at MIT Sloan, as a Sloan Fellow in 2008. While at MIT, she focused on technology strategy, product development, and neurotechnology ventures. Ms. MacMillan currently serves as a board member of the MIT Alumni of Hartford and is active in the entrepreneurial community in her home state of Connecticut.