Lorraine Marchand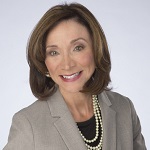 Lorraine Marchand is a Senior Partner at The Triana Group. Over her career, she has held executive roles in Management, Operations, Business Development and Marketing for large pharmaceutical and biotechnology companies, drug-development service companies, and healthcare services companies in addition to academic medical centers and the Federal government. She held P&L responsibility for budgets ranging from start-up capital to $275 million, and operations on several continents.
Lorraine started her career as a program director at The National Institutes of Health where she was the founding director of a new program. She then joined the public relations firm Porter Novelli-Omicom in New York where she was Senior Vice President and Managing Director. She later became the Executive Director for Business Planning and Operations at Bristol-Myers Squibb. She left BMS to join the leading contract research organizations Covance (Princeton) as Vice President for Late Stage Services, then Clinilabs (New York) as its Chief Operating Officer. Since then, she has helped to launch as an Advisor, CEO, Board Member, and/or Business Angel several privately funded medical and information technology companies. She is currently a senior leader in the Life Sciences Consulting Practice at Cognizant Technology Solutions. In 2010, she joined The Triana Group, Inc. as Senior Partner and co-founder of its Healthcare practice.
Lorraine holds a Masters in Public Affairs from the American University and M.B.A.s from Columbia University as well as the London Business School. She has Six Sigma Certification. She is also Executive Coach at Hewlett Packard Sales University, and Schooland James Wei Visiting Professor of Entrepreneurship at Princeton University.
[
back
]