Kristin Barbato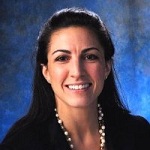 An Advisor to The Triana Group, Kristin Barbato is the Deputy Commissioner and Chief Energy Management Officer of New Your City. She manages energy procurement, billing, efficiency retrofits, and implementation of PlaNYC strategies and programs, totaling over a $1 Billion annual budget for the City-owned 4000+ buildings and facilities.
Prior to this position, Kristin was the Business Development Director for Veolia Energy North America, in New York. Prior to Veolia, she was the Strategic Planning Manager at the energy company Con Edison, involved in corporate strategy, M&A, and business development analyses such as smart grid, technology transfer, energy efficiency, and distributed generation. Earlier, she oversaw the implementation of a new CIS and was responsible for the company's billing systems representing $13B in annual revenue. Prior to Con Edison, Kristin was Director of Client Application Services for Precision Response Corporation, supervising IT solutions for Fortune 500 companies in 17 call centers locations and 9,000 employees worldwide.
Kristin graduated from Columbia University with an MBA in Finance & Economics, and an Engineering degree from Cornell University. She also is one of the founding board members of the NYC Association for Energy Economics (NYCAEE) and works with many companies to support energy policy and projects in New York.
[
back
]