Jean-Noel Poirier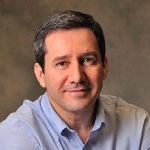 An Advisor to The Triana Group, Jean-Noel Poirier is The Chief Sales Officer of the international company Global Solar Energy. Formerly, Jean-Noel was a Vice President in charge of Market Development at First Solar, Inc., the world leader in thin-film solar energy ($1.2 billion in annual revenue). Prior to this position he held several senior executive positions at Honeywell, including Global Vice President, Marketing, for a $3 billion division, and Director of Strategy and Business Development for the company's $34 billion annual business.
He was also an equity partner in several early-stage companies, including Dependable Electronic Systems LLC -a start-up focused on solving reliability issues in Li-ion Batteries- and Machflow Inc., a start-up company with a unique clean cooling technology, backed by the venture capital firm Kleiner Perkins.
Jean-Noel holds an MBA from the Kellogg graduate School of Management, Northwestern University, as well as a BS in Applied Economics and a BS in Management Sciences from the University of Paris Dauphine.
[
back
]