Geert Cauwenbergh, PhD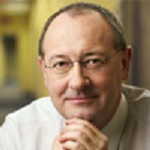 One of the first Advisors to The Triana Group in 2008, Dr. Geert Cauwenbergh is the Founder & Managing Partner of Phases123, and the CEO of Aramis Pharmaceuticals. He is a also a Member of the Board of Directors for Ablynx NV in Belgium; Euroscreen SA; for ECI Biotech Inc in the USA; for Cutanea Inc in the USA; for Alto Pharmaceuticals Inc in Canada. He is also a Senior Advisor to SkinVisisble Inc. and Wombat Capital. He is a Member of the Board of Trustees for BIO New Jersey.
Earlier in his career, Geert was Chairman of BIO New Jersey; Chairman and CEO of RHEI Pharmaceuticals in Belgium and China; Vice President of R&D and Global Vice President of Technology for J&J. He was also the Founder, former Chairman and CEO of Barrier Therapeutics, a biotechnology company for which he raised $250 million through substantial rounds of venture capital and the NASDAQ.
[
back
]