David-Alexandre Baranes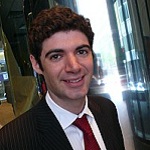 A shareholder of The Triana Group, David-Alexandre Baranes is a Country Manager for AppNexus, the real-time advertising platform backed by investors including Marc Andreessen and Ben Horowitz, Ron Conway, First Round Capital, Venrock, Kodiak Venture Partners, Khosla Ventures, and Microsoft.
Prior to joining AppNexus, David was a co-founder and partner at The Triana Group. At Triana, he worked with portfolio companies, one of which bringing 100-time multiple, and was instrumental in several successful engagements with clients. He helped board members and executives of several midmarket technology companies to successfully source and negotiate partnerships and joint-ventures with customers and channel partners overseas, made strategic introductions, and helped companies expand their corporate development reach through VIP meetings with world leaders such as now-IMF Director Christine Lagarde, Doubleclick founder Kevin Ryan, LinkedIn Founder and CEO Kevin Ryan, and many others.
He holds a Masters in Finance from Columbia University, and an Engineering Degree from the French Ecole Polytechnique. He has traveled worldwide.