Matthew Grotenstein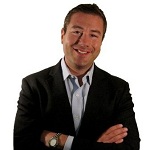 An advisor to The Triana Group since 2013, Matthew I. Grotenstein is the Vice President of Sales & Client Development for Acclaro, a global translation and localization firm with clients such as Cisco, Intel, LinkedIn, Sony and many more.
Matt brings to The Triana Group a successful track record in corporate leadership and business development. Prior to joining Acclaro, he has successfully founded an international social media analytics technology platform (Soshio), and an international business development firm (WorldBridge Ventures.)  Earlier, Matt was the first employee of the popular social media start-up Ortsbo. Sought out by Ortsbo's parent company, the Canadian Technology incubator Intertainment Media, Matt served as both Vice President of Global Business Development and Director of Language Services, and led Ortsbo's successful expansion into the U.S. market.
Prior to joining Ortsbo, Matt was Head of U.S. Business Development for CLS Communication. CLS is the successor to UBS Bank's internal Global Communications Group, and the largest Swiss firm focused on providing localization strategy and support to large multi-national corporations. Matt was responsible for leading the sales and business development efforts of bringing CLS into the U.S. market. Before joining CLS, Matt served as Director of Business Development for Outsource Partners International (OPI), the internal Business Processes Outsourcing Group of KPMG. The company was taken private in 2007 through a management buy-out. Matt was responsible for all aspects of sales and business development in the North American market, and founded the Company's Private Equity Due Diligence Advisory Practice. OPI was acquired in 2011 by EXL.
Prior to joining OPI, Matt served as Vice President of Corporate and Business Development for American Advisors Group in Newport Beach California. AAG was the start-up division of a major financial services firm. Matt again was the first employee, and responsible for leading the company from one office to a national organization with offices in thirty states and revenue over $25M. Matt began his executive career with iDine / Rewards Network, an early publicly traded daily deal and loyalty marketing site where he led the New York sales and business development effort.
Matt holds a Bachelors Degree from Fordham University in New York City and is currently pursuing a degree in Management from Harvard University. He is a frequent speaker on the topic of international business and multilingual communication. He is a Guest Lecturer at the Baruch College School of Communication, and serves on the Board of Directors of the translation industry non-profit organization Red T. Matt has also served on the Advisory Board of the USAID Africa Trade Office, and as a member of the Corporate Communication Institute and the Corporate Council on Africa.
[back]